Is there really a perfect camera bag? Not really because it all depends on the use and the type of equipment one has, needs and uses. Camera bags come in several configurations, each with pluses and minuses. The traditional style gadget bag and messenger type bags sling over one shoulder and allow access from the top rather quickly after putting the bag on the ground. I find these type bags difficult to shoot with since they swing around and usually they end up being placed on the ground which is ok if you have an assistant watching your stuff. Backpacks allow hands free movement and can carry a lot of stuff. The drawback with backpacks is that you have to put them flat on the ground before opening other wise all of your stuff will fall out. Sling bags are kind of a hybrid. They only have one strap and are designed to swing around the hip and form a platform so you can get at the contents without putting the bag on the ground. The drawback is they can't carry as much gear.
I have a collection of camera bags stretching back to my very early years with an Olympus OM-10 35mm film camera. I have a basic bargain gadget bag that is ready for the Salvation Army bin, a huge LowePro backpack that I used to carry around a vintage Graflex Press Camera and 4x5 Poloroid Film and backs, plus a LowePro sling bag I used with my small Panasonic Lumix micro 4/3rds outfit but now I'm working with a full frame Canon 6D and everything about it is bigger from the body to the lens to the battery charger. So I need something to travel with, something that can haul my stuff not only on the plane but on the trails and also have room perhaps for a book, snack and Kindle. Here are a few bags I looked at..

Amazon Basics Large DSLR Gadget Bag (Orange interior)
This is your basic camera bag at a very good price. At $24, no wonder its back ordered on Amazon at the moment. I actually placed an order for this bag but I fear it won't be in stock in time for my trip. This is a typical camera bag design with the flip back top. Convenient and easy to find your gear. Its great for organizing equipment and storing in the closet or trunk of a car but is not exactly the kind of bag I'd go hiking down the trail with and it kind of screams out "photographer" so while its a great deal and a very useful design I don't think I'll take it on vacation with me.
Store, carry and protect your camera equipment

Slot for iPad Mini, Google Nexus 7, Amazon Kindle Fire

Holds 1 DSLR body and up to 3 lenses
The LowePro is a great back for walking around with a single DSLR body and a lens or two and not a lot of other stuff. This bag is slim design for quick access to your camera without the need to remove the backpack. Unfortunately it doesn't have a lot of room for accessories and if you are traveling there is no place to pack a book or tablet. I could bring my micro four thirds outfit of body and four lens with this bag but with my full frame DSLR there its a very tight fit. There are larger sizes of this design but then it gets kind of unwieldy. The whole point of this design was for quick work.
Manfrotto MB SB390-5BB VELOCE V Backpack -Black
I've been attracted to this Manfrotto Italian design camera bag a number of times at Best Buy. Its pricy but has some interesting features as well as quirks. As far as storage its one of the few bags I've seen that was designed to carry a travel tripod on the inside of the bag. It also has a laptop or tablet spot. The bag itself seems to have been made to keep gypsy street urchins from stealing all of your gear as the inside of the bag can only be reached from the back. In other words you have to remove the bag in order to get into it. It too me and a Best Buy dude a few minutes to figure it out. There is a spot where a hand can reach into the bag from the other side but its guarded by a huge metal (heavy - I don't know why it had to be metal) clip, velcro and a zipper. No street pickpocket is going to get in their without you knowing it.
Canon Deluxe Photo Backpack 200EG for Canon EOS SLR Cameras (Black with Green Accent)
Waterproof and zippered case for cameras

Holds up to 2 camera bodies, 4 lenses and accessories

Well-arranged divider system offers secure storage and easy access

Padded shoulder straps makes carrying the case easy
"Made of rugged nylon Canon Deluxe Backpack 200EG holds up to 2 camera bodies, 4 lenses, plus accessories. Due to its lightweight construction it features a well-arranged divider system for a secure storage and an easy access, padded shoulder straps and a comfortable back padding. Add to this tripod carrying straps and a front webbing ideal for lashing light jacket, sweater, etc."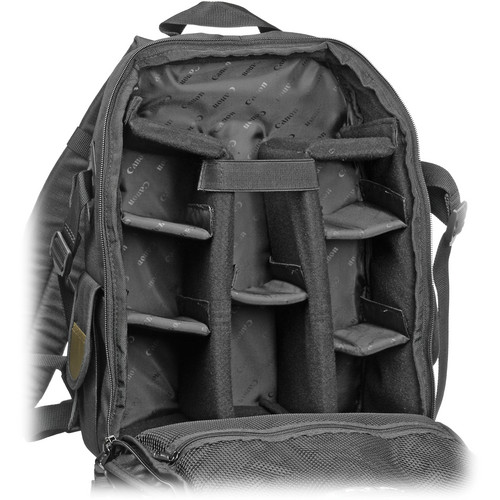 After trying out a bunch of bags at Best Buy (and then ordering from Amazon for about $25 less), I ordered the Canon backpack bag for my trip. What I like about this bag is that it looks more like a regular backpack then most bags so it doesn't scream "steal me". I'll cut off the "Canon" tags to make it a bit more stealthy. This backpack also wasn't as overly padded and stiff as a lot of the available bags. Sure protection is good but I want to be able to slide it under the airplane seat.